William Glackens' modern love at NSU Art Museum
By Phillip Valys, SouthFlorida.com
September 3, 2015
The question struck senior curator Barbara Buhler Lynes last year, when the NSU Art Museum Fort Lauderdale plunged into its archives and unveiled the first retrospective of artist William Glackens in about 50 years. How did a Francophile with a devotion to masters like Renoir and Degas decide to paint something distinctly American and modern?
The answer, Lynes points out on a recent tour of the museum, lies in two portraits hanging side-by-side in the second-floor gallery. One is 1903's "Portrait of Charles FitzGerald," a somber painting of a friend and art critic, made with a slurry of blacks and grays that pays tribute to the dark European palette he encountered often on visits to Paris. The other, painted 15 years later in 1918, is "Artist's Daughter in Chinese Costume," a cheerier, brighter painting of Glackens' daughter Lenna, standing indoors against red rugs and carpets.
"That was the thing. He thought he was too dependent on French modern paintings in his early work," Lynes says. "So I wondered how Glackens got to that place in his art. He's going through a shift to create this national American identity."
Visit the SouthFlorida.com website to read the full story.
Gain Access to Special Museum Events—Become a Member Today!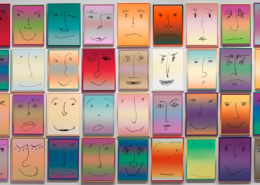 October 27, 2019 - July 5, 2020
https://nsuartmuseum.org/wp-content/uploads/2019/07/Pruitt-Us-L.2019.1.1.3-closeup-installation.jpg
884
1500
Fulano
https://nsuartmuseum.org/wp-content/uploads/2015/07/nsu-art-museum-logo-blk-v2.png
Fulano
2019-10-27 13:11:41
2019-11-13 12:00:02
Happy!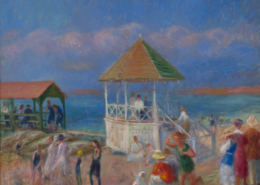 June 16, 2019 - Fall 2020
https://nsuartmuseum.org/wp-content/uploads/2019/06/Glackens-From-Pencil-to-Paint.jpg
1676
2000
Fulano
https://nsuartmuseum.org/wp-content/uploads/2015/07/nsu-art-museum-logo-blk-v2.png
Fulano
2019-06-11 10:26:00
2019-06-19 08:44:12
William J. Glackens: From Pencil to Paint