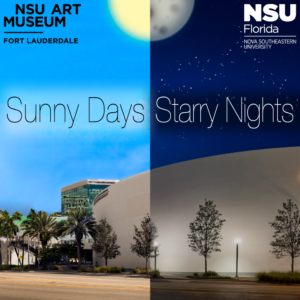 Enjoy FREE Museum admission and 2-for-1 All Day Happy Hour on the first Thursday of every month from 11 am to 7 pm during Free First Thursday Sunny Days/Starry Nights.
Thursday, April 6, 2023, 11 am – 7 pm


Mini Muse
4:30 – 6:30 pm
Free drop in art making activities for children inspired by current exhibitions.
Starry Nights is presented by Broward Health
Major support for exhibitions and programs at NSU Art Museum Fort Lauderdale is provided by the David and Francie Horvitz Family Endowment, the City of Fort Lauderdale, Wege Foundation, Community Foundation of Broward, Lillian S. Wells Foundation, the Broward County Cultural Division, the Cultural Council, and the Broward County Board of County Commissioners, the State of Florida, Department of State, Division of Arts and Culture and the Florida Council on Arts and Culture, the National Endowment for the Arts and the Greater Fort Lauderdale Convention & Visitors Bureau. NSU Art Museum Fort Lauderdale is accredited by the American Association of Museums.