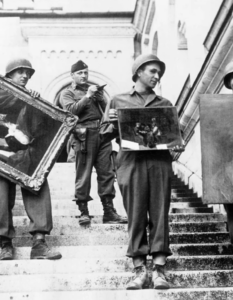 Date of event: 4/17/23
Time: 10:30 am
Pricing: Free
Location: John Knox Village Auditorium
On Monday, April 17, the NSU Art Museum's Docent Speakers Bureau will present Fakers and Filchers, a look at the dark side of the art world- forgery, theft, and other skulduggery in the past, present, and, most likely, future. The talk will be in the John Knox Village auditorium at 10:30 am.
The speaker is Phyllis Friedland. Phyllis and her family moved to Fort Lauderdale from Philadelphia in 1985.  Following early retirement from the yacht interior design business, she joined NSU Art Museum as a Docent in 1997.
In addition to conducting exhibition tours, Phyllis joined the Docent Speakers Bureau in 2010 and became co-chair of the group in 2013.  She is proud to have taken part in developing a variety of art presentations with her Speakers Bureau committee members, and growing the number of venues visited in Broward and Palm Beach counties.
The presentation is part of a partnership between the Village and NSU Art Museum.
Image: American soldiers recover looted art works from Neuschwantstein Castle. Courtesy of the National Archive and Records Administration.