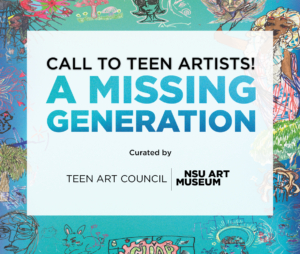 OPEN CALL: A Missing Generation – Curated by Teen Art Council | NSU Art Museum


A Missing Generation is an exhibition of art work by Broward County teens curated by student members of NSU Art Museum's Teen Art Council, which highlights the unique perspectives and experiences of teens across Broward County. Teens are invited  to exhibit their art  work with their peers and engage with the greater community of Broward County.


Call for Submissions
March 27 – April 7
Opening Reception
May 4, from 5 – 7 pm
Submission Requirements:
Please review the submission requirements and fill out the form by clicking the button below.


Applicants must be ages 13 to 19 years and must be attending HS in Broward County.
Deadline to submit your work: March 27th 9:00 AM – April 4th 5:00 PM
Drop-off time April 17th – April 21st (NSU Art Museum – One East Las Olas Blvd., Ft. Lauderdale, 33301)
Maximum of 3 submissions per person
All mediums are encouraged! (Visual Art, Dance, Music, Writing, Performance, etc.)
Must be recent work and made within your high school term
All submissions must be submitted through the online form. Exceptions will be made by emailing

[email protected]

 


If accepted, your work will be on view at NSU Art Museum, One East Las Olas, Blvd. Fort Lauderdale, FL 33301
May 4th – May 7th. You will be invited to the Opening Reception held on May 4th, from 5-7 PM. Free attendance, all are welcomed.
Please contact the NSU Art Museum Education Department at [email protected] with any questions.
Major support for exhibitions and programs at NSU Art Museum Fort Lauderdale is provided by the David and Francie Horvitz Family Endowment, the City of Fort Lauderdale, Wege Foundation, Community Foundation of Broward, Lillian S. Wells Foundation, the Broward County Cultural Division, the Cultural Council, and the Broward County Board of County Commissioners, the State of Florida, Department of State, Division of Arts and Culture and the Florida Council on Arts and Culture, and the National Endowment for the Arts. NSU Art Museum Fort Lauderdale is accredited by the American Association of Museums.